Kruger National Park Bush Braai
Posted by Jacques on Thu September 13, 2018.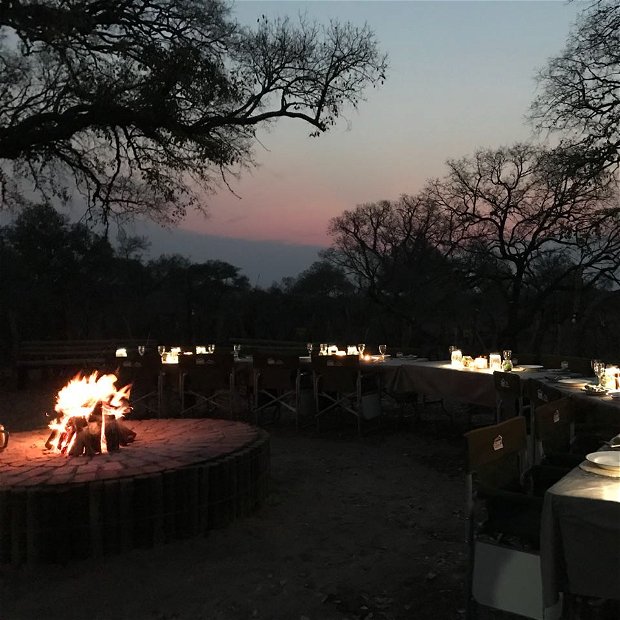 With the launch of our new Kruger National Park bush braai. We get all giddy on the experience and take you along for the journey, combining our two favorite things into a once in a lifetime experience. A braai (or bbq as some call it) inside the Kruger National Park!
The excursion departed from La Kruger Lifestyle Lodge at 16h00pm. We were picked up in an open game viewing vehicle by a very knowledgeable guide "Corlia."
Having just departed the lodge, we took the second dirt road headed to exit Marloth Park when lo and behold, only five minutes into our trip we had a traffic jam! Now most people despise a traffic jam, but when the jam is a result of a tower of Giraffes, it becomes a memorable experience.
Giraffe Traffic Jam - Collectively known as a "Tower."
The Giraffes, lazily browsed on into the bush and we set off again. A short while later just before exiting Marloth Park from the asphalt road we were again greeted with a road block. This time however it was in the form of an Ostrich. So elegant she was, slowly walking right down the middle of the road, a posing beauty giving us the opportunity to take some wonderful photo's. Corlia seized the chance to share her knowledge, informing us that ostriches have the largest eye of any land mammal allowing them to see predators at long distances. Ostriches also have three stomachs, lacking teeth however, they swallow pebbles to grind their food. An adult ostrich carries about 1kg of stones at any one time.
The flightless ostrich is the world's largest bird.
Within 20 minutes we had reached the Crocodile Bridge gate and so the excitement began to build. Before entering the Kruger National Park, we were briefed on the safety regulations by Irving (the head guide) and once through the booms the fun really started.
We had an over an hour's sunset drive. So off we went. Our first sighting was a very intriguing one indeed. A mob of Mongoose. They were extremely quick and agile, communicating in an almost tweeting fashion. We did manage to take one photo, I presume that the guilty party had eaten too much and decided to rest!
A recent study by scientists from the University of Exeter has found that banded mongooses pass on traditions (relating to foraging) from generation to generation. This practice had previously been thought be reserved for humans and so-called higher animals such as other primates.
Further upon our adventure, we were taken to Hippo Pools. Here we were treated to being allowed to disembark and climb the rock structure with Irving. The pools are beautifully set in nature and there are cave paintings which we were shown. Above the pools we were treated to a magnificent sunset and an array of animals came down to drink from the ponds where the Hippo's wallowed. Elephant, Buffalo and plain games teemed the area!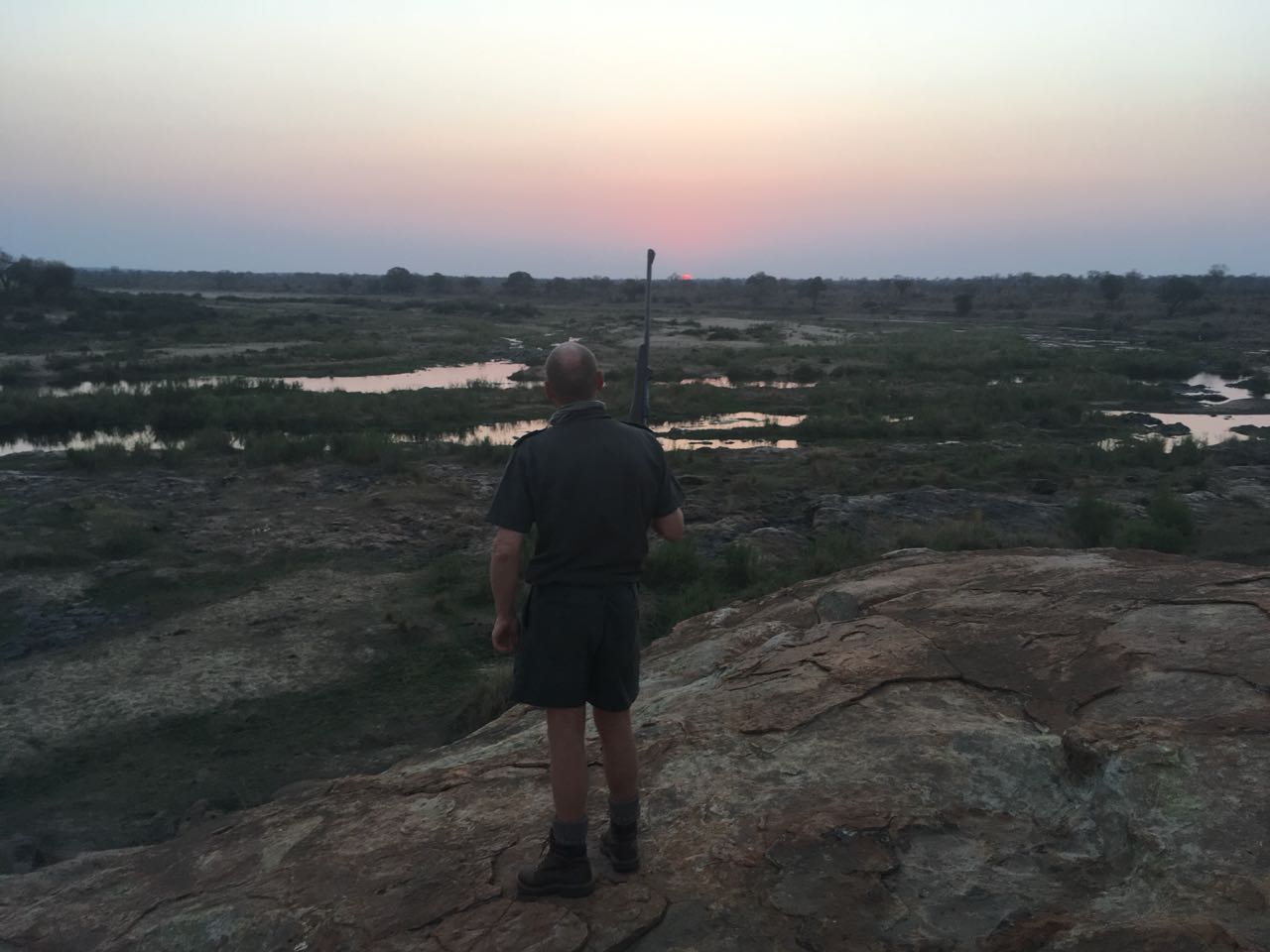 Irving keeping an eye out as we watched the sunset dissappear over the horizon.
With a hunger striking our bellies, we were led back to the vehicles and departed for the braai area approximately 7km away. As dusk fell upon the Kruger, we could already get a sense of the night life awakening. We managed to see a Genet and a Hyena en-route!
We arrived at the site, and it was mesmerising! Set in a beautiful wooded area, atop a small dam we were greeted by the staff and welcomed with drinks, snacks and friendly hospitality that can only be described as "amazing!"
Snacks anyone?
The food was tantalising on our taste buds and in the true South African way there was more than enough to go around on the buffet. What a pleasure it was to relax in nature next to an exquisite fire, and have such service bestowed upon us! Boerewors, steak and chicken braaied to perfection accompanied with salads and starches that represent South African cuisine in style! Dining under a million plus stars and listening to the night time express itself as animals communicate and each minute is filled with wonderment and excitement! All of this warm emotion, washed down with an ice cold beer, wine and cold drinks offered throughout the meal.
Second helping - no problem!
Delicious salads.
Best bush steaks!
Mouth watering South African desserts.
Having eaten our fill, and observed elephants quietly walking past our dinner feast, it was time to depart on our night drive before exiting the Kruger National Park.
Dinner and a show!
We were not to be disappointed, only 10 minutes into the night drive and we came upon a pride of lions, resting having had their dinner. So close-by it felt as if we could reach out and touch them (highly not recommended), We were also treated to some Jackal, Cheetah and Civet all of which Corlia highlighted and educated us on! It really had been a spectacular evening as the vehicle hummed slowly through the park under the starry African sky heading for the park exit.
Lions roar to communicate their position to other prides. A lion's roar is the loudest of any big cat and can be heard up to 8 km away.
African civet is omnivore (eats plants and animals). Its diet includes fruit and various vegetation, insects, eggs, birds, reptiles and small mammals.
Cheetahs have between 2,000 and 3,000 spots, which help them to camouflage themselves.
Upon our return to the lodge, it was time to retire having experienced this once in a life-time adventure! With sleepy heads and full tummy's we crept into bed and fell asleep to the sweet lullaby of lions roaring in the distance!
If this is your type of adrenaline and you have an up and coming stay with us, don't forget to book in advance as the space is limited. The bush braai departs La Kruger Lifestyle Lodge at 16:00 pm and returns at approximately 21:00 pm! We look forward to you making memories @ La Kruger.