Warthog Spring Birth At La Kruger Lifestyle Lodge
Posted by Jacques on Fri October 19, 2018 in
Lodge News
.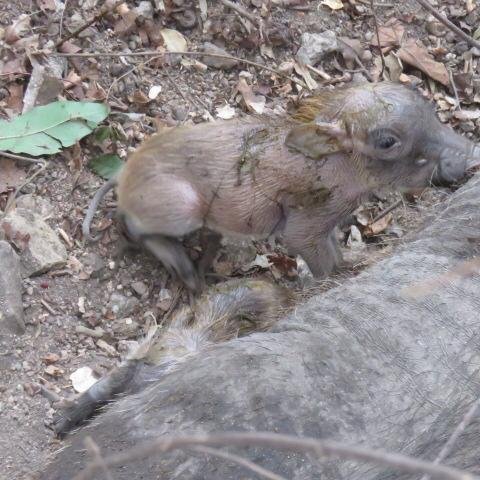 With one of our local Warthogs (Phacochoerus africanus) giving birth to four piglets, we were requested to add and send some photo's of the new Mom with her babies!
The piglets were born on the 22nd September 2018. It was a really exciting event and we are pleased to have welcomed the new members to our family. We did manage a few photo's but really did not want to disturb the new sounder (group of Warthogs).
Image courtesy of Katja Schadewald
Christine, Tom and Katja were staying at the lodge during this time and I have shared thier email below. We would like to thank them for thier kind comments and recent support of our establishment! We are truly humbled to receive such positive feedback...
Dear Lizette, Dear Lynette,
Dear La Kruger Staff,
It's been awhile but first of all, we'd like to thank all of you for the great days we had at La Kruger Lifestyle Lodge. It felt like home to us and mostly because you've been so kind, dedicated and magnificent. We loved our Chalets, the Lodge, the surrounding area and of course the breakfast and dinner – very delicious. Gosh, how lucky we've been to see all that and all these animals tiny to big on our Safari trips and on top of it the warthog with her little tiny babies right beside the Lodge. Thank you so much for just everything! It was the best part of our holidays. You really made our days perfekt while we stayed with you.
We have a little request, if you don't mind. Our Camera couldn't manage to make a good Photo of the warthog with her little babies. If you could maybe send us a Photo of her and the little ones? It would be so great and really appreciated.
Best wishes and hope to see you all again one day. You guys are amazing! Take care.
Christine and Tom & Katja